Top 5 Easter Desserts
When it is Easter and you've got people over, and you are running around all over the place, you might have overlooked a thing or two.  You probably put lots of time and energy into the Easter egg hunts and the meals. But what about the Easter desserts? You're not going to just put a plate of Peeps and Jelly Bellies out, are you? Well, after reading this list, hopefully you will be prepped and ready.
With this list of the best Easter desserts, you are going to have a nice mixture of fancy desserts that take some prep time, all the way down to the easy-to-order, done-for-you options as well.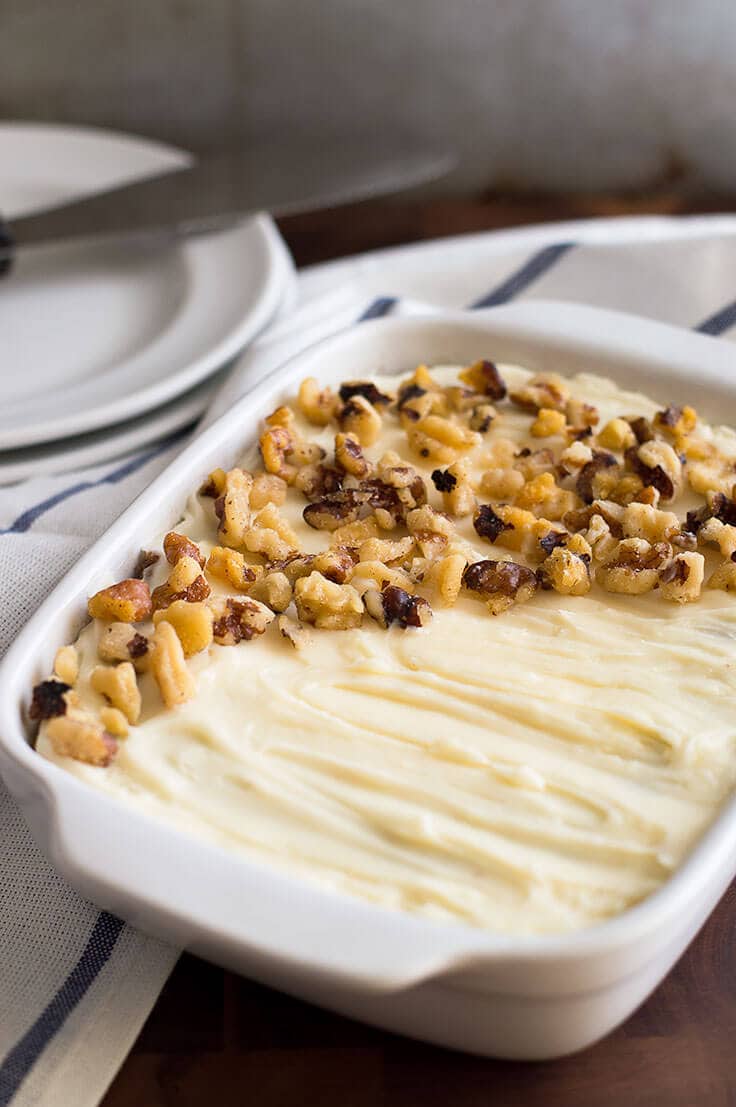 This carrot cake recipe by Tracy over at Baking Mischief is pretty straightforward, and is sure to impress.  Carrot cake is one of those delicious desserts that not only totally fits the holiday season, but you can also pretend that you are eating your fair share of veggies for the day.  Check out how easy this is:
Ingredients
1/2

 

cup

 (

60g

) all-purpose flour

1

 

teaspoon

 

baking soda

1/2

 

teaspoon

 

cinnamon

1/2

 

teaspoon

 

allspice

1/4

 

teaspoon

 

salt

1/2

 

cup

 (

100g

) granulated sugar

1/4

 

cup

 

vegetable oil

1

 

large egg

2/3

 

cup

 

grated carrots

2

 

ounces

 

cream cheese

 

room temperature

4

 

tablespoons

 (

2oz

) unsalted butter 

room temperature

1/4

 

teaspoon

 

vanilla extract

2/3

 

cup

 (

80g

) powdered sugar 

sifted

Pinch of salt
Instructions
Preheat your oven to 350°F. Lightly grease your baking dish.
In a small bowl, whisk together flour, baking soda, cinnamon, allspice, and salt.
In a medium bowl, whisk together sugar, vegetable oil, and egg until well combined. Stir in flour mixture and use a rubber spatula to fold in grated carrots. Bake for 24 to 30 minutes, until a toothpick inserted into the center of the cake comes out clean. Place cake (in pan) on a cooling rack, and cool completely before frosting, about 45 minutes.
Whisk together cream cheese, butter, and vanilla until smooth. Add sifted powdered sugar and salt and whisk until well-combined and fluffy. Spread frosting over the cake. Chilling before serving is optional but recommended. Serve cake in the baking pan and store covered in the refrigerator.
So, for those of you that thought this list my get a little too strict, we submit to you the Peeps Cocktail by Jamie over at Love Bakes Good Cakes.  And this is a doozy.  If you have children hyped up after a day of sugar, you could probably use a nice dessert drink at some point.  Now, not only can you have your after dinner cocktail, but you can keep it festive.
This recipe serves one, so if you have other people to serve, or just want more than one for yourself (we won't judge), just multiply accordingly.
Ingredients
Lemon wedge
Colored Sugar
1½ oz. Cherry Vodka
½ oz. Triple Sec
3 oz. Half and Half
Dash of Grenadine
1 Marshmallow Peep
Instructions
Rim a martini glass with the lemon wedge and then dip the rim into colored sugar. Set aside.
Add the cherry vodka, triple sec, half and half and grenadine to a shaker filled with ice, until chilled. Strain into prepared glass. Garnish with the Peep. Serve immediately.
Bake Me A Wish is the saving grace for all the kitchen inept people who still want to put out a fantastic Easter dessert.  They have an amazing amount of mouth watering options when it comes to cakes and cupcakes for Easter, and they can ship overnight.  I don't know about you, but they may become my new go-to service for any last minute desserts I need to conjure up.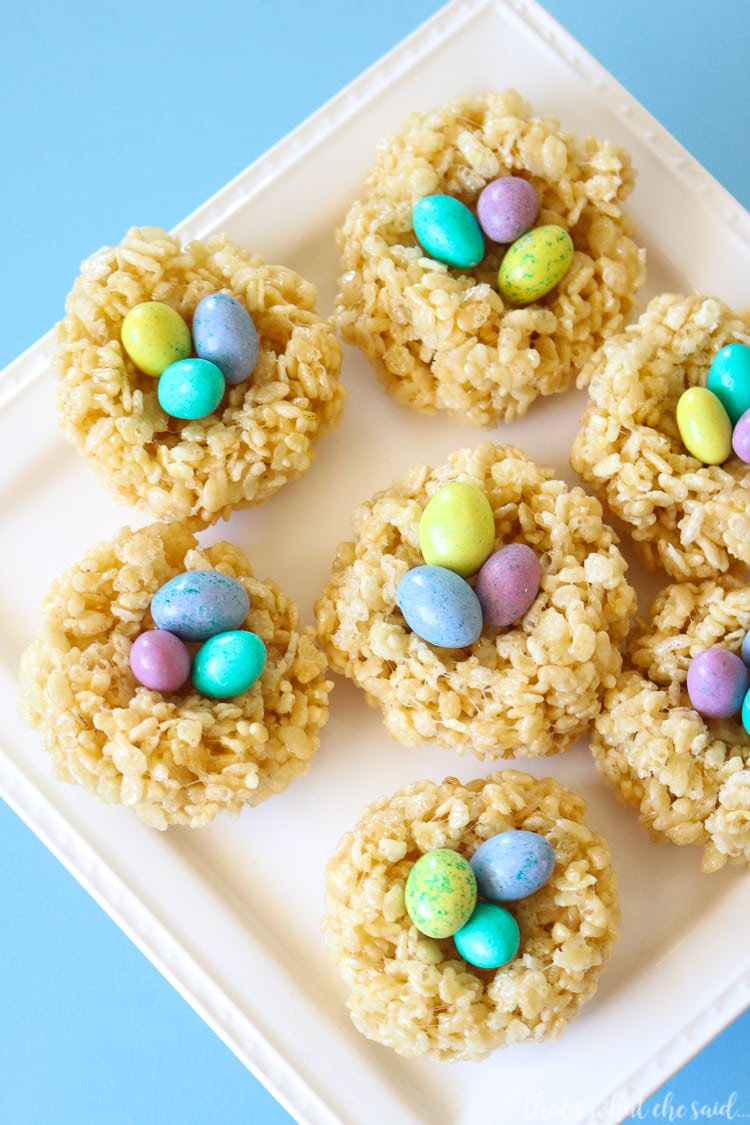 These treats are both creative, and easy to make.  If you want to be the hero for the kids when it comes to Easter dessert, it'd be tough to be a nest of Rice Krispie treats with eggs that are M&Ms.  We've got Cheryl at That's What Che Said to thank for this recipe.
Ingredients
8

 

cups

 

Rice Krispie Cereal

8

 

tbsps

 

butter

16

 

ounces

 

mini-marshmallows

Egg M&M's
Instructions
In a large pot, melt butter and mini marshmallows over medium low heat. Stir these constantly so they do not burn.

Remove from heat right before the last marshmallows melt.

Add in rice cereal and use a spatula to fold the marshmallow mixture into the cereal. Continue until everything is incorporated.

Let sit 10-15 minutes to cool just slightly so that you can easily form the nexts with your hands.

To form the nests, butter your hands (yep, use butter like lotion) and then grab a tennis ball sized amount of krispie mixture and make a ball. Press your thumb into the center to make the indent of the nest and form the outsides as needed.

Place on parchment lined cookie sheet and repeat with remaining mixture, rebuttering your hands as needed.

Allow to cool. Once cool add egg shaped M&M's to the nest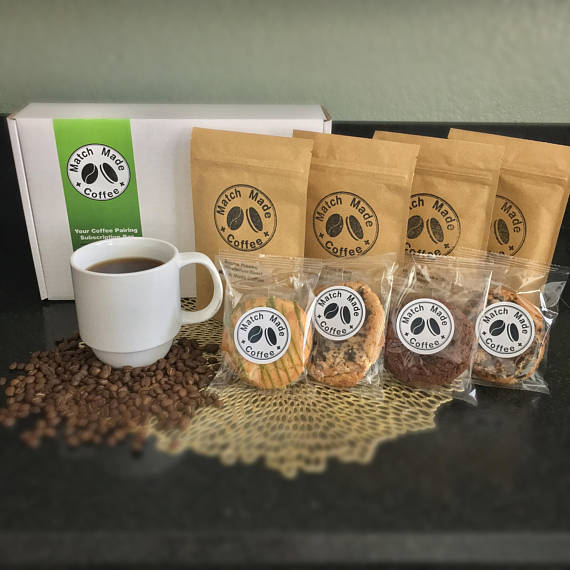 For those of you that enjoy following a fancy feast with a small cup of coffee, like they do in many high end European restaurants, then we have another done-for-you option with Match Made Coffee.  The small batch craft coffees come with scrumptious gourmet cookies designed to be paired with one another.  Serve this as your Easter dessert and you will be glad that you did.  The coffee after a meal helps suppress appetite.  And the cookie?  Well, the cookies and their unique flavors are just the embodiment of deliciousness.
---
And what do you guys think?  Are there any specific Easter desserts that you love to serve?  Or has this list got your mind going and thinking of a million other desserts you would like to have?  Let us know in the comments.